Digital Tools, Design Software, Simulations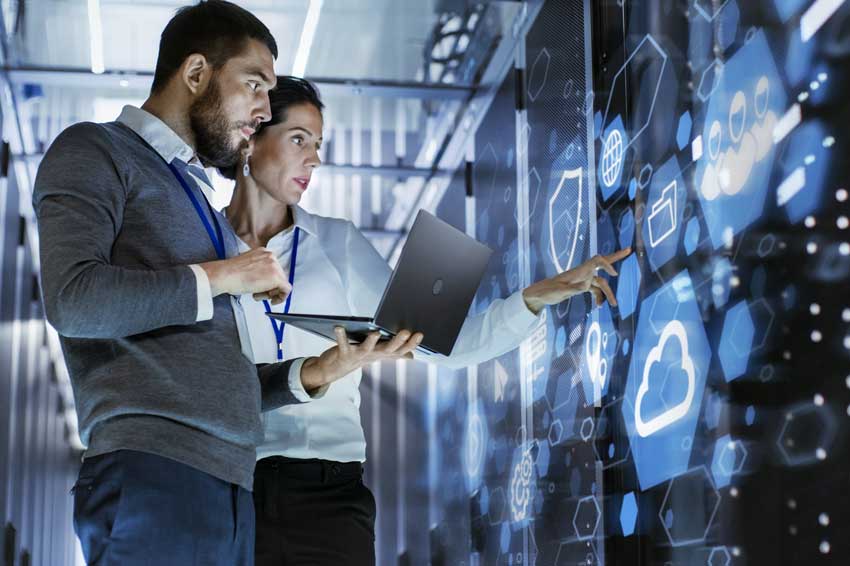 The special e-issue 4/2021 August/September 2021 of PhotonicsViews magazine has started a series of digital tools or software that eases your life as a photonics professional by either helping you with your system design or during the manufacturing process or when purchasing components.
Read this issue's articles as single PDFs or browse the entire issue's e-paper.
(Image source: Shutterstock / Gorodenkoff)
Additive Manufacturing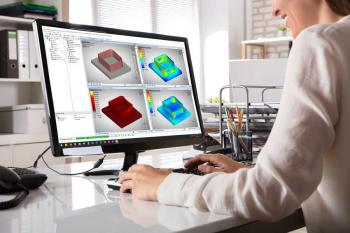 Directed energy deposition (DED) is a powerful additive manufacturing technique that combines a high degree of freedom in design with relatively high deposition rates that can increase throughput. DED structures are created by repeatedly depositing weld beads from powder or wire feedstock, which also makes it an attractive technique for hybrid manufacturing because features can be added to a base component. However, the numerous heating and cooling cycles involved in the deposition process result in a complex thermal history that can entail distort the entire component.
Article: Beatrix Elsner (Hexagon Manufacturing Intelligence), Frank Silze (OSCAR PLT), and Axel Marquardt (TU Dresden): IMProVing directed energy deposition – Industry collaboration overcomes distortion in new DED additive manufacturing processes with simulation, pp. 40–42; DOI: 10.1002/phvs.202100052
Image: Simufact Welding graphical user interface (GUI) (Source: Hexagon)
Machine and Control Technology
"Internet of Production" / Kubernetes
iop.rwth-aachen.de
Software Tools for Laser Material Processing
ilt.fraunhofer.de/en/media-center/brochures/…
In the Cluster of Excellence "Internet of Production" (IoP), two hundred scientists at RWTH Aachen University in co-operation with Fraunhofer ILT have set up a data center for controlling and monitoring industrial processes. The concept for this is based on a project for controlling laser systems developed at the Fraunhofer Institute for Laser Technology ILT and uses the open source software Kubernetes. A corresponding system has been running successfully at the institute for two years, and with it the institute can automatically and remotely install the software for new lasers in just a few minutes.
Article: Controlling 100 lasers automatically via the cloud – Using open-source cloud technology to manage laser manufacturing software, pp. 57–59.
Image: The Kubernetes software is used, for example, to control ultrashort-pulse laser systems. The scientists are currently researching the automatic evaluation of measurement data. (Source: Fh. ILT)
Machine Vision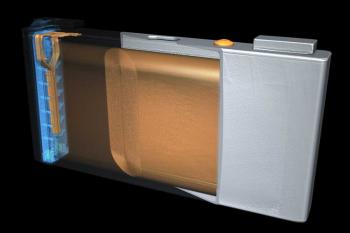 Because of their high power density, rechargeable lithium-ion batteries are subject to strict quality monitoring. Industrial computed tomography is increasingly being used to detect any defects before delivery or during production.
Article: Intelligent quality assurance for batteries – Computed tomography detects defects in modern lithium-ion batteries, pp. 49–51, by Richard Laepple on behalf of Volume Graphics GmbH
Image: 3D visualization of a CT scan of a battery pack containing a prismatic cell rendered with VGSTUDIO MAX. (Source: Volume Graphics / Waygate Technologies, formerly GE Inspection Technologies)
Measurement Technology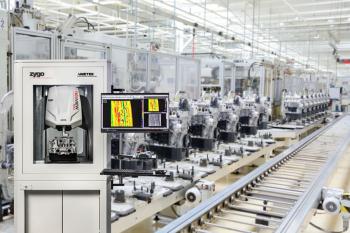 When looking at the place of metrology in the 'fourth industrial revolution', it is interesting to ponder whether industry 4.0 is being driven by developments in metrology or metrology developments are being driven by Industry 4.0.
Article: Peter J. de Groot & Michael Schmidt (Zygo Corp.): Metrology & Industry 4.0 – Deploying optical technology and process control solutions to the smart factory floor, pp. 73–75; DOI: 10.1002/phvs.202100053
Image: The future of advanced manufacturing relies on greater integration of precision metrology with production quality control. (Source: Zygo)
Optical Components and Systems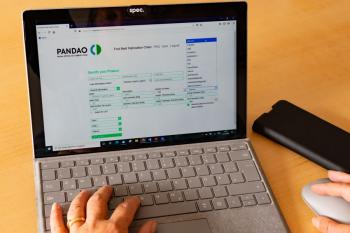 It takes optical systems such as sophisticated car headlights, telescopes or endoscopes to apply light as a tool, for example to see in the dark, to detect rocks in outer space or stones in a human kidney. As the accuracy of the usage of light tools is increasing rapidly, the quality of optical systems has to follow accordingly. So the process of generating optical systems needs to be optimized to enable the optimum transfer of accuracy and quality to all subsequent entities in the creation process, right from the initial application idea through to final acceptance testing.
Register for a free and personal online demonstration of the tool or for a free trial. Also: use the new design-to-fabrication service, where the experts analyze your lens with the PanDao tool and report to you – ask for a quotation.
Article: Oliver Fähnle, Rolf Rascher, and Marco Tinner (PanDao / OST – Eastern Switzerland University of Applied Sciences): Optical fabrication chain design – By analyzing lens data during optics design, the optimal optical fabrication chain can be determined, pp. 43–45; DOI: 10.1002/phvs.202100051
Image: Optical fabrication chain design within reach thanks to the online tool. (Source: PanDao)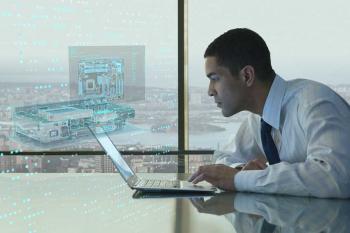 Simcenter is a flexible, open, and scalable portfolio of the best predictive simulation and test applications that support you at every step in your digital journey. Simcenter is a key component within the Xcelerator portfolio, allowing engineers to generate a set of ultrarealistic, multiphysics models and data that can predict real product behavior. By providing insight into the real-world performance of a product or a process, Simcenter allows you to accelerate innovation over the entire lifecycle.
Article: John Parry (Siemens Software): Mind the gap – Using thermal simulation software to analyze cooling mechanisms of pluggable optics modules, pp. 68–72; DOI: 10.1002/phvs.202100049
Image: Siemens PLM – electronics digitalization (Source: Siemens Digital Industries Software)
Optics Design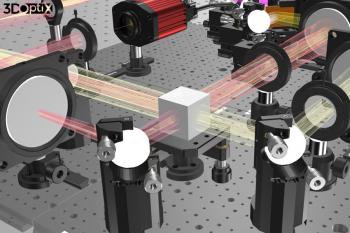 In a stark contrast to traditional optical design and simulation software, 3DOptix offers a free, easy-to-use, cloud-based, collaborative optical design and simulation software. It includes a suite of discovery tools, such as off-the-shelf optical element search, Filter finder tool, professional drawing/media capabilities, educational walk-me, and live mode. The modern UI/UX design allows for a steep learning curve catering to both experienced optical designers and novices.
Article: Haim Suchowski (3DOptix / Tel Aviv University): Cloud-based simulation tools for streamlined optical design – 3DOptix is a free, easy-to-use, cloud-based optical design and simulation software which includes a suite of discovery tools and drawings, pp. 46–48; DOI: 10.1002/phvs.202100054
Read also: 3Doptix' cross-vendor optics discovery portal, WileyIndustryNews.com, 24 March 2021
Image: "The Future of Optical Design" (Source: 3DOptix)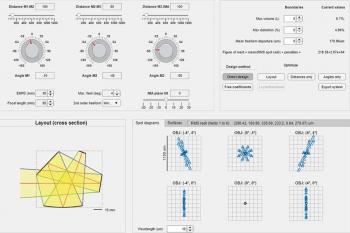 Today's design of optical systems relies largely on efficient ray tracing and optimization algorithms. Such a 'step-and-repeat' approach to optical design typically requires considerable experience, intuition, and trial-and-error guesswork. Brussels Photonics researchers have developed a design method that allows highly systematic generation and evaluation of directly calculated freeform design solutions and enables a rigorous, extensive, and real-time evaluation in solution space. Readers have the opportunity for hands-on freeform design experience via an open-access web application.
Article: Fabian Duerr & Hugo Thienpont (B-PHOT / VUB): 'First time right' freeform optics – A systematic and highly effective tool to design imaging systems from scratch, pp. 52–56, DOI: 10.1002/phvs.202100047
Read also: "First time right" freeform optics, WileyIndustryNews.com, 5 July 2021
Image: Included freeform design web app. A how-to-use manual is provided in the Supplementary Information document of article [1]. (Source: B-PHOT / VUB)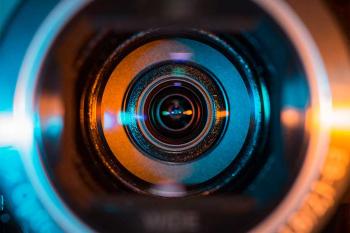 Numerical simulation of optical components and photonic devices is an essential step in the design of new products and the optimization of existing designs. Fast and cost-effective simulation can substantially reduce the amount of experimentation and prototyping required in the product development cycle.
Request a COMSOL® software demonstration at comsol.com/request-a-demo
Article: Phillip Oberdorfer, Yosuke Mizuyama, and Christopher Boucher (Comsol): Deeper insights, better designs – less prototypes: How state of the art multiphysics simulation helps to understand, predict, and optimize photonics processes and devices, pp. 62–67; DOI: 10.1002/phvs.202100050
Image: Lens system (Source: Shutterstock / Denniro)
Production Safety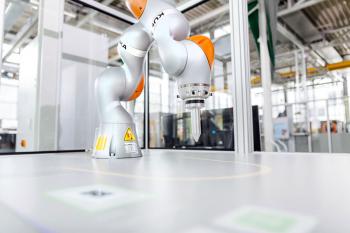 The safety of people interacting with robots has top priority, especially when humans and robots are working side by side instead of being separated from each other by safety fencing. The Fraunhofer Institute for Factory Operation and Automation IFF's web-based design tool helps companies design their cobots. The Cobot Designer helps minimize the risk of accidents and increases employee safety. The tool is available as a free web application.
Article: Web-based design tool for better job safety – Safe human-robot collaboration, pp. 60–61
Image: With the 'Cobot Planner', human-robot workplaces can be planned easily and safely. (Source: Fh. IFF)