News
Robot sales in the EU increase by 6 percent
03.07.2023 - In Europe there is a rapidly increasing demand for industrial robots
The 27 member states of the European Union installed around 72,000 units in 2022 - an increase of 6 percent compared to the previous year. These are preliminary figures published by the International Federation of Robotics (IFR).
Germany is by far the largest robot market in Europe: around 26,000 units were installed in 2022 (+ 3 percent compared to the previous year). This corresponded to a share of 37 percent of the EU total. Globally, the country has the fourth highest robot density after Japan, Singapore and the Republic of Korea.
The automotive industry is traditionally the main buyer of industrial robots in Germany. 27 percent of the newly deployed units were installed in this branch in 2022. That corresponds to 7,100 units – 22 percent fewer than in the previous year. A well-known cyclical investment behavior in this segment can be seen here. In general industry, the main customer was the metal sector, which installed a total of 4,200 units (+ 20 percent) in 2022. This is above pre-pandemic levels of around 3,500 units per year, with a peak of 3,700 units in 2019. Installations in the plastics and chemical industries returned to pre-pandemic levels with a 7 percent increase to 2,200 units in 2022.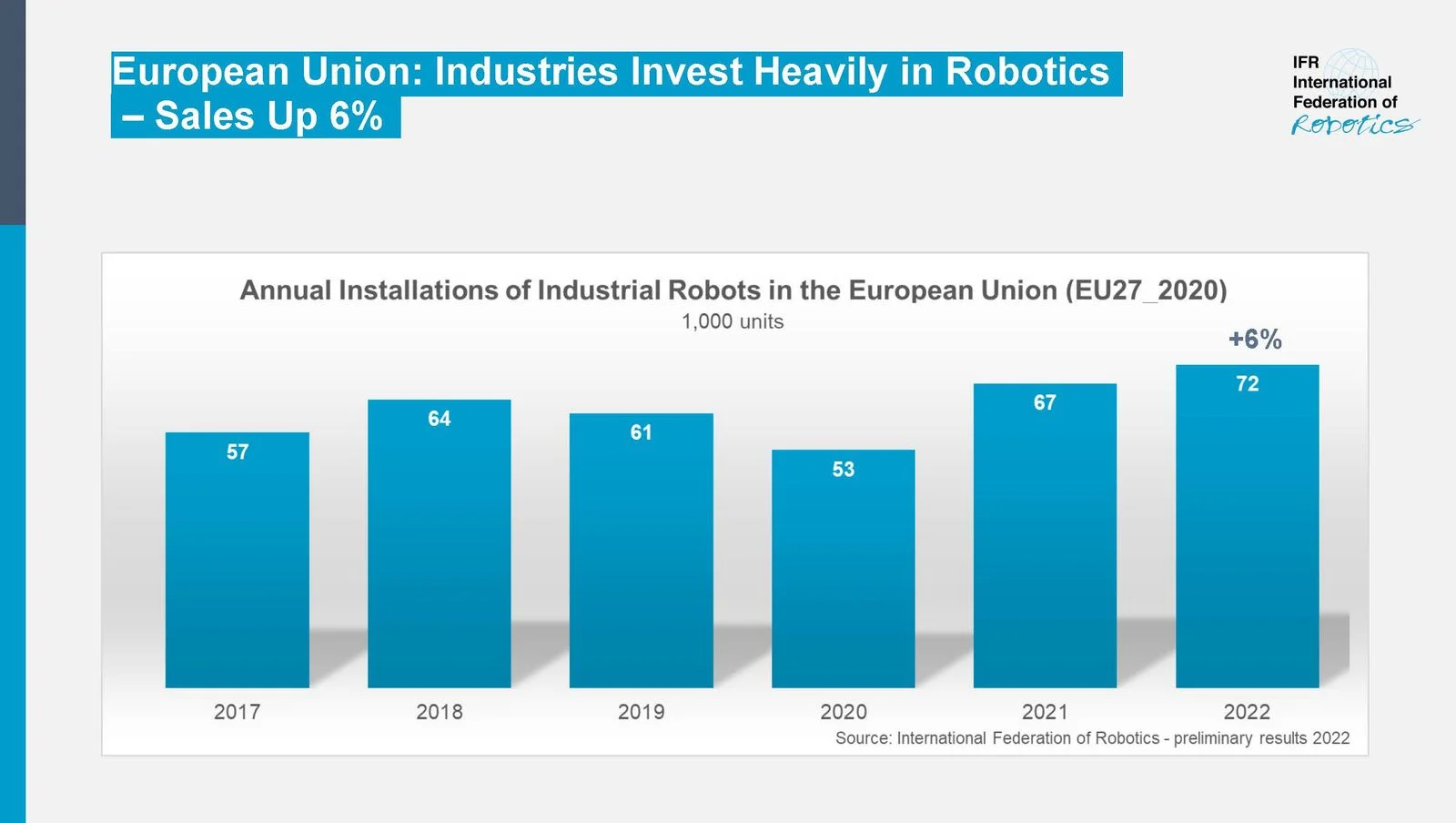 Italy is the second largest robot market in Europe after Germany. In 2022, an all-time high of almost 12,000 units (+ 10 percent) was installed. This corresponded to a share of 16 percent of the total installations in the EU.
The country has a strong metals and machinery industry: sales reached 3,700 units in 2022 - up 18 percent year-on-year. Sales of robots in the plastics and chemical industries increased by 42 percent with 1,400 units installed. In addition, Italy has a significant food and beverage industry. Installations increased 9 percent to 1,400 units in 2022. Demand from the automotive industry fell 22 percent to 900 units. This segment is dominated by the Stellantis Group, the result of the merger of FIAT-Chrysler and PSA (France).
The robot market in France ranked third in Europe in 2022. Annual installations increased 15 percent to 7,400 units. That is less than a third of the number in neighboring Germany. The main customer is the metal industry with a market share of 22 percent. 1,600 robots were installed in this segment - an increase of 23 percent. The automotive industry increased by 19 percent and reached 1,600 units. This corresponds to a market share of 21 percent. The French government's €100 billion stimulus package for investments in smart factories, which came into force in mid-2021, is likely to drive demand for industrial robots in the coming years.
Annual installations in Spain increased by 12 percent to a total of 3,800 units. The robot installations are traditionally driven by the automotive industry. According to the International Organization of Motor Vehicle Manufacturers (OICA), Spain is the second largest automobile producer in Europe after Germany. The Spanish automotive industry installed 900 units - an increase of 5 percent. Sales in the metal industry increased by 20 percent and reached 900 units. The automotive and metals industries accounted for almost 50 percent of robot installations in Spain in 2022.
Robot installations in Europe, including non-EU member states, totaled 84,000 units in 2022 - a 3 percent increase compared to the previous year.
Contact
IFR International Federation of Robotics
Lyoner Straße 18
60528 Frankfurt
Germany
+49 69 6603-1697
+49 69 6603-2697