Vision
Unlocking the Future of Metal Inspection
Advertorial - Evident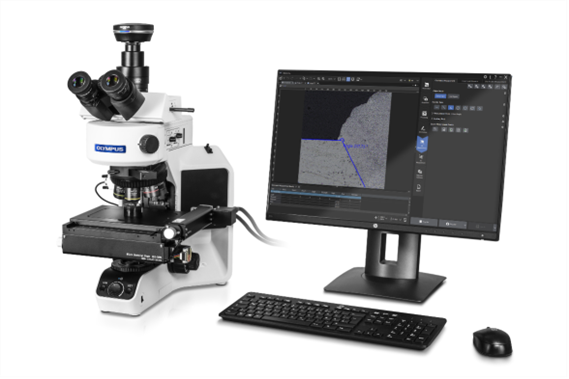 In the fast-paced world of manufacturing and quality control, precision and efficiency are critical for success. Evident's PRECiV software seamlessly enhances your metal inspection workflow, providing you with the flexibility and control you need to deliver accurate and detailed analysis. Since its initial release in 2022, PRECiV has rapidly gained the trust of industry professionals and is now taking a significant leap forward with the introduction of PRECiV 1.2, packed with additional features that streamline inspection, quality control, and failure analysis.

A Multifaceted Solution
PRECiV's comprehensive platform offers seamless integration into your inspection workflow, enhancing data collection and reporting in a fully digital, customizable, and collaborative manner. It covers a wide array of functions, including the ability to test for macrostructural fractures, evaluate abnormalities, and analyze failure mechanisms using 3D measurements, Extended Focal Imaging (EFI), AI-based image analysis, and dedicated workflows that comply with international standards.

Enhanced Imaging Capabilities
It can be challenging to get a fully focused image of entire rough surfaces, such as fractured samples, multi-planar materials, and slightly tilted polished samples. The PRECiV software offers versatile and powerful image-enhancing tools that advance your inspection capabilities and significantly enhance your chances of detecting imperfections.
Multiple contrast options are available to help you fine-tune the imaging conditions to suit your specific needs, including brightfield, darkfield, polarization, and MIX observation. MIX observation cleverly combines directional darkfield with other contrasts to reveal defects and differentiate surface variations that are normally challenging to see with conventional microscopes. Capable of working with Evident and select third-party products, newly introduced manual and automatic modes also make it easy to capture panorama or EFI of your inspection samples, allowing you to obtain large, fully in focus images.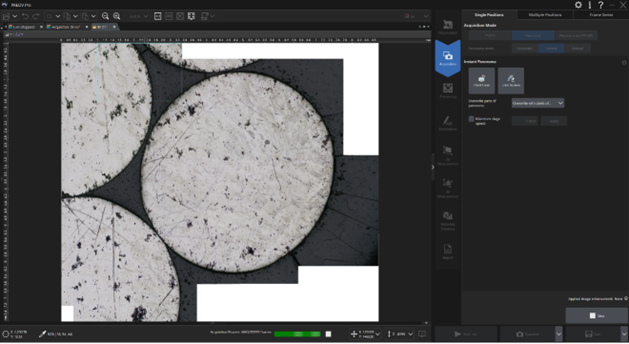 AI-Powered Precision
PRECiV software incorporates TruAI technology, which utilizes artificial neural networks to analyze complex images quickly and easily. Solve your inspection challenges using a range of powerful filters for edge detection, smoothing, and other purposes. For higher reproducibility and more robust analysis, TruAI can also be used to reliably separate objects, such as particles and scratches, from the background using the Count and Measure solution.
Tailored Workflows for Metallography
When doing quality control analysis, PRECiV offers dedicated workflows for tasks like grain size analysis, nonmetallic inclusion content rating, graphite nodularity evaluation, phase analysis, and more. These workflows are designed to streamline materials science analyses and ensure reproducible and reliable results, all while adhering to international standards like ISO, ASTM, JIS, and DIN.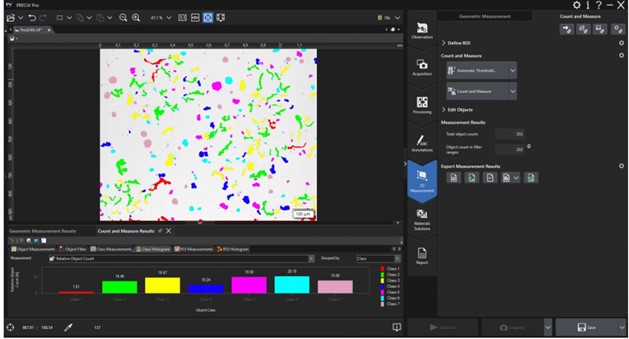 Scalable Solutions
Evident understands that every company has unique inspection needs and budget constraints. To cater to these varied requirements, PRECiV offers four distinct software packages:
PRECiV Capture: An entry-level package for acquiring digital images and basic 2D measurements.
PRECiV Core: Ideal for QA labs and inspection rooms, offering extended focus images and measurement export capabilities.
PRECiV Pro: The most powerful version, equipped with comprehensive features for QA/QC, failure analysis, and analytical reporting.
PRECiV Desktop: A streamlined version for high-quality reports and quantitative image processing away from the microscope.
Companies can purchase licenses tailored to their specific needs, with the flexibility to upgrade as new tasks arise.
Evident's PRECiV software is the future of metal inspection, combining advanced imaging, AI-driven precision, and tailored workflows to meet the demands of modern manufacturing and quality control. To explore customized PRECiV solutions and discuss your specific needs, contact Evident today. PRECiV is not just a software; it's a new way of working.